Welcome to Water Cooler Talk, a weekly review of sports events that I find mildly interesting.
Disclaimer: There's a good chance I hate your team.
Since I skipped last week, I'll be giving a full review of the past fortnight.
Super Bowl Sunday
Two Sundays ago we all witnessed of the greatest games ever. One fans of Boston will never forget.
That's right, I am talking about Paul Pierce's final game in the Garden.
Paul Pierce closes out his last game in Boston by burying a three pic.twitter.com/MdQ9YhdcKn

— CJ Fogler (@cjzero) February 5, 2017
If you told me this was the first bucket Pierce has made this year, I'd believe you. Hell, if you told me this was the first game Paul Pierce has played in the past two years I'd believe you too.
Guy has been hiding on the Clippers' bench, just cashing checks as a result of Doc Rivers' affection for players that used to be on his former championship Celtics' team. If you need someone to fill in for Chris Paul while he's out, I bet Eddie House has a little bit of lift left in those legs.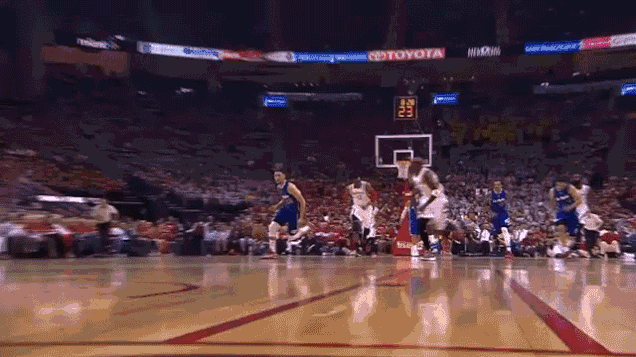 Can't be worse than the minutes he's giving to his son.
Obviously, the real game that day was the Super Bowl. I'll save the in-depth discussion because you've already heard all of it over twenty times. It's kind of been a slow month for sports.
Was this greatest comeback or the worst choke job in the history of sports? I'll answer my own question. It was the latter. How do you blow a 25 point lead with six minutes left in the third quarter? How is that even possible? I honestly have to do the math on this.
Touchdown (missed PAT) = 6
Field Goal = 9
Touchdown (converted two point conversion) = 17
Touchdown (converted two point conversion) = 25
HOW? How do you let a team score four times(and in that fashion) in 20 minutes when you were dominating on both sides of the ball before that?
Wild stat. Falcons called only 5 running plays after securing a 28-3 lead. @NFLonFOX

— Peter Schrager (@PSchrags) February 6, 2017
This is why I don't think it's that hard to coach in the NFL. Shanahan was calling plays like he was playing Madden in a dorm room. No one wants to be that guy who only calls runs the ball to eat clock when they have the lead in a video game.
New #49ers coach Kyle Shanahan on telling people "I blew it." … "I don't know if I used those exact words, but that sounds like how I talk."

— Ian Rapoport (@RapSheet) February 9, 2017
But there's a little more at stake during the Super Bowl. You might want to milk some clock. Don't worry San Francisco, you'll never have to worry about his play calling since there will never be a lead for you to blow.
Tom Brady's new commercial features five rings and a 'Roger That' punchline.

He filmed it IN SEPTEMBER. pic.twitter.com/mjeZdn8oJe

— Brad Galli (@BradGalli) February 9, 2017
Did this game solidify Tom Brady as the greatest of all time? Absolutely, since whoever has the most championships is the only barometer for these types of discussions. Trent Dilfer is better than Dan Marino. Eli Manning is better than Aaron Rodgers. But in all seriousness, it would hard to argue against Tom. Although, I don't think Montana ever got his jersey stolen after a game.
The Tuesday after, the city of Boston had their annual victory parade.
Gronk got shirtless and drunk, which was easily the most he contributed to the team this season.
Guys, someone broke Bill Belichick. pic.twitter.com/wyd5AlHEIA

— Zack Cox (@ZackCoxNESN) February 7, 2017
Bill Belichick also tried to start a "No Days Off" chant unironically to thousands of people who were taking the day off to celebrate.
Falcons make it official, announce they have agreed with Steve Sarkisian to become their next offensive coordinator.

— Adam Schefter (@AdamSchefter) February 7, 2017
Meanwhile in Georgia, the Falcons replaced their offensive coordinator with a former alcoholic whose only coaching experience in the past two years was his awful playing calling in Alabama's lose to Clemson in National Championship Game. So needless to say, he's the perfect fit for the team.
The Falcons also fired their defensive coordinator, defensive line coach and had one of their corners celebrate his interception against Tom Brady on Instagram.
At least someone found a silver lining.
Atlanta should probably just not have sports for a while. I don't think you can come back from this kind of loss. The Warriors blew a 3–1 lead in the NBA Finals, but at least they won the previous year. The Indians blew a 3–1 lead in the World Series, but no one cares about baseball. The Falcons have nothing to hang their hat on. Dwight Howard? The Braves? The Bulldogs? Just leave the NFL and start rooting for Alabama. Roll Tide!
Trouble In The Golden State
Since half of the Cavaliers are injured, the only somewhat compelling story line in the NBA this year is the Golden State Warriors. Here's what has happened in the past two weeks.
Steve Kerr goes ballistic following Technical Foul pic.twitter.com/WfeSSqjpTI

— Rob Perez (@World_Wide_Wob) February 5, 2017
He earned every penny of that 25 thousand dollar fine. When you see how angry Coach Kerr can get, you can understand why Michael Jordan socked him in the face when they were on the Bulls together.
"My mom was really upset with me, she said that was embarrassing Steven. Don't do that again."

– @SteveKerr on his technical in Sacramento pic.twitter.com/vF23AcZ0CY

— 95.7 The GAME (@957thegame) February 10, 2017
Any son knows that if your mother uses your full name, you're in big trouble. Surprised he didn't get his mouth washed out with soap.
I honestly think Draymond recruited KD to Golden State so he could yell at more talented players. He got tired of berating Festus Ezeli and Harrison Barnes, so he went out and got a former MVP that he could give a mouthful of expletives towards.
Draymond Green clearly doesn't think his shouting match with KD last night was a big deal.

(h/t @PursuitofArete) pic.twitter.com/RTaISOG4j3

— SB Nation NBA (@SBNationNBA) February 5, 2017
It's incredible how someone with so many issues can be one of the most important players on the best team in the NBA. He'd be out of the league if he was on a team like the Magic.
Speaking of Orlando, the Magic traded Serge Ibaka to the Raptors for Terrance Ross and a first round pick. And that's the last time I will mention either of those players or teams.
Durant Versus Westbrook: Round Three
This week Durant finally returned to Oklahoma City and it was the most entertaining blowout I've ever watched
Kevin Durant reportedly hired extra security for his return to Oklahoma City https://t.co/4HVDbrlXW4 pic.twitter.com/rNsQzRMsqO

— Bleacher Report (@BleacherReport) February 11, 2017
People had issues with this, but if I angered a whole state and came back, you better believe I'm making sure I am keeping myself safe. Especially in the Midwest. People there don't have much to lose. They got their sports and their "Make America Great Again" hat. That's it.
A little backstory here: Back when Westbrook and Durant were teammates, Kendrick Perkins would call players who were soft cupcakes and it became a running joke between the team. Right after Durant signed with the Warriors, Westbrook posted an Instagram of a display of Fourth of July cupcakes that essentially sub-Instagrammed Durant for leaving the team. Just a friendly reminder that these are full grown men and not sorority girls fighting because Tiffany hooked up with Bobby while he was on a break with Jessica.
Thunder fans hitting Kevin Durant with a "Cupcake" chant in OKC. #OKCvsGSW pic.twitter.com/OyuYagVICj

— Hardys® (@HardysMedia) February 12, 2017
The fans embraced the slight, making various signs, shirts and even chanting "Cupcake" all throughout the game.
Russell Westbrook showed up in a Willie Beamen jersey from Any Given Sunday 👀

📹 @NBA pic.twitter.com/9EkqWS8Ssv

— SB Nation (@SBNation) February 11, 2017
Got to look good for when you lose by 20.
Warriors' Kevin Durant goes head-to-head with Thunder's Andre Roberson (full sequence) pic.twitter.com/W0wFez5eh1

— Ben Golliver (@BenGolliver) February 12, 2017
After three games, things finally reached the tipping point. The people finally got what they wanted: Kevin Durant versus Andre Roberson!
IT'S GAME DAY! The Dubs continue their road trip with a visit to Oklahoma City » https://t.co/YWLWULXvrM pic.twitter.com/YO3jTWOC19

— GoldenStateWarriors (@warriors) February 11, 2017
A lot of people were saying the Warriors' social media was trolling Westbrook with this photo, but maybe they just knew something we didn't.
Russell Westbrook tells Kevin Durant "I'm Coming", Durant responds with "You're losing" #GSWvsOKC pic.twitter.com/Nz6BJGus2l

— SportzNowLive © (@SportzNowLive) February 12, 2017
Nothing is less intimidating then telling someone you're coming for them down 15 points. Coming for what? Dinner tomorrow? An early off-season?
The Warriors won by 16 points, finally putting an end to this years' "battle" of Durant versus Westbrook. Maybe they will see each other again in the playoffs, but that seems unlikely since one team is good, and the other, is bad. They'll be on the same All-Star team this weekend, so it will be fun to see Westbrook ducking passes from Durant, and hogging the ball. Well, the hogging the ball part we've gotten used to.
Trouble In Sacramento
There's another team in Northern California, and what they lack in talent they make up for in…dysfunction?
What is going on in Sacramento? 😳 pic.twitter.com/rSLlbr0FYK

— Bleacher Report (@BleacherReport) February 7, 2017
Barnes must have thought Derek Fisher got an assistant coaching job with the Bulls the way he ran into this fight. Speaking of, Fisher's house was robbed a couple weeks ago with all five of his championship rings being stolen. Has anyone checked Barnes' jewelry cabinet?
Boogie got himself ejected with 1 second left in the game. It was his 16th technical of the season and now he'll be suspended one game. pic.twitter.com/tkFBcvWrmp

— SB Nation NBA (@SBNationNBA) February 7, 2017
Now that Boogie has committed 16 technical fouls, he will be suspended after every two, so expect Cousins to play around 10 games after the All-Star Break.
Kiffin Is Free
If you're wondering why Lane Kiffin left Alabama for FAU, here it is. Joey Freshwater is going to be killing it with the co-eds. He'll probably score more off the field this year for the Owls.
Love Is Broken
Source tells ESPN that Kevin Love will undergo a scope on his L knee and miss six weeks.

— Dave McMenamin (@mcten) February 14, 2017
The announcement of Love being out six weeks on Valentine's Day is incredibly ironic.
 This is like the NBA version of Puxatony Phil. Now we get a couple more months of LeBron complaining.
LaMelo BALLS
NINETY-TWO.

LaMelo Ball, younger brother of UCLA star Lonzo Ball, drops 92 points in high school gamehttps://t.co/HzgLe3iKug pic.twitter.com/yig0MTM0GY

— Bleacher Report (@BleacherReport) February 8, 2017
LaMelo Ball, Brother of UCLA star, Lonzo Ball, and great grandson of sports icon, Basket Ball, dropped 92 points in a high school game as a sophomore.
LaMelo Ball Scores 92 POINTS!!!! 41 In The 4th Quarter!! FULL Highlights! Chino Hills vs Los Osos!!: https://t.co/6nkcQKKc77 via

— Ballislife.com (@Ballislife) February 8, 2017
Who is he playing against? Half of these plays he's cherry-picking for easy points. It looks like him and his other two brothers will be NBA bound once they become eligible. There's no way all three will be successful. Which begs the question: Which team will draft the bad one? Spoiler alert: it's the Knicks.
Free Oakley
Speaking of the Knicks, what an all-time disaster surrounding James Dolan, Charles Oakley, Knicks PR, and the City of New York.
Charles Oakley shoves Madison Square Garden security and is escorted out of the building in strange scene pic.twitter.com/lTphvnSzFV

— Sports Illustrated (@SInow) February 9, 2017
First off, it looks like every single security guard in Madison Square Garden forcibly escorts Oakley out of the arena.
— NY_KnicksPR (@NY_KnicksPR) February 9, 2017
Second, Knicks PR releases a statement insinuating the Oakley is an alcoholic, which prompted Oakley to respond in an interview that "wine isn't alcohol", which is the truest statement I've ever heard.
After being escorted out he was arrested and banned from returning to the arena.
Oakley chant gets very loud, Knicks PA can't drown it out because they're shooting free throws pic.twitter.com/eTCSbBvAIx

— Knicks Memes (@KnicksMemes) February 11, 2017
This lead to unrest and protest of the ban from Knicks' fans. It's not enough that their team is awful, but they also have to ban and embarrass former players too.
Knicks have Latrell Sprewell, Larry Johnson, Bernard King, Bill Bradley and Vin Baker at MSG while Spike Lee has a Charles Oakley jersey on.

— Michael Scotto (@MikeAScotto) February 12, 2017
Dolan tried to pull the wool over everyone else's eyes by inviting every former Knick in his phone's contact list to the next game. This failed PR stunt was not only obvious, but desperate. Eventually a professional adult, Adam Silver, had to step in and negotiate this mess created by an incompetent owner born on third base who is more focused on his terrible band "JD and the Straight Shot."
The ban was lifted but the damage was already done, as Oakley said he would never come back to a Knicks' game. Looking at their record and their roster, I'd think a majority of the fan base would do the same.
Just seen Phil Jackson sleeping on the bus. pic.twitter.com/FIba8mMsfQ

— 🇬🇩 🇹🇹 (@ChasingJason) February 16, 2017
Oh, and to tie this into a neat little bow of a dumpster fire (sorry for the overused sports' cliché), here's a photo of the "Zen Master", Phil Jackson, riding public transportation. How many bus tokens do you think you can get with 11 championship rings?
College Basketball, I Guess
We are only a couple weeks away from college basketball being watchable but until then there were a couple noteworthy things that happened this week.
Nothing more exciting than a coach feuding with a reporter.
This week, Dan Dakich called MSU fans "whiners" and Michigan's safety school. I know one of those things is truthful. Michigan State isn't called "little brother" for nothing. Nonetheless, the student section responded by chanting "We Hate Dakich" throughout the game, which confused Tom Izzo. Once Tom Izzo was given the context, he ripped into Dakich which is probably the only volatile offense his team will see all year.
This Ironworker has been on that roof/beam every day 8 hrs a day for weeks..today it 35 out..yeah Bron works harder pic.twitter.com/4pMss9fPWa

— Dan Dakich (@dandakich) December 7, 2016
Izzo later moved on, realizing Dakich is too pre-occupied spying on the construction putting on roofing in an attempt to complain about NBA players wanting to take games off to rest.
Comeback kids! 🎥 Highlights from last night's overtime win over West Virginia #kubball pic.twitter.com/CPUrRjZhRw

— Kansas Basketball (@KUHoops) February 14, 2017
With three minutes to go, Kansas came back from down 14 to beat West Virginia. As comebacks go, I'm not sure it's going to top any of the ones we've seen in the past year.
Dickie V rips Kansas fans for leaving early. "You can't be just a front runner!" https://t.co/nQ3h2FUVYJ

— Kevin McGuire (@KevinOnCFB) February 14, 2017
But as society has showed us, the older generation loves to complain about how privileged the younger generation is, which lead to Dick Vitale ripping into the student section as they decided to leave early.
Dickie V still at it about the KU fans leaving early lol https://t.co/3fvehTfAQY

— Matt Clapp (@Matt2Clapp) February 14, 2017
God I love how mad Baby Boomers get at Millennials. It's so obvious how jealous they are. Who cares if fans left early? It's a regular season game and they were getting blown out. I've left early for a lot less. Maybe these kids had midterms the next day or the more logical reason: They wanted to get a jump start on their night and get drunk 10–15 minutes earlier than they were planning on. Either way, Dickie V needs to change his "Diaper Dandy" and let kids be kids.
The bad week for Vitale continued as he was forced to announce a NBA game with the great Bill Walton. He had to watch enjoyable basketball with a deadhead for three hours. I can't imagine a more miserable experience for Vitale other than watching Duke lose in the first round of the Final Four. I guarantee Vitale has watched less than 10 NBA games in his lifetime. He probably despises dunks, extravagant layups and dribbles. I bet he thinks a player that can make more than one three pointer in a game is some sort of wizard.
Bill Walton calls game producer "Dr. Slave Driver", mic gets cut, Dave Pasch abt to drop his headset and go home 💀

— Rob Perez (@World_Wide_Wob) February 16, 2017
The hardest job in sports is whoever is in charge of Walton's microphone. I don't know what he was on when he announcing these games, but I need to know so I never get near the stuff.
And that's this week's Water Cooler Talk
Follow me:
Twitter: @ChrisScondi
Facebook: Sports By Scondi
Medium: Sports By Scondi